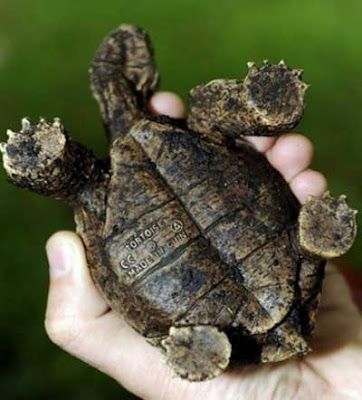 Margaret Parker of Carlisle, England, found a five-inch-long tortoise in her garden. The miniature tortoise was cute, so she brought it inside and tried to feed it. Parker's daughter brought some lettuce for it, but it still wouldn't eat. So the women called Knoxwood Wildlife Rescue Centre for advice, and a volunteer was sent out. Pauline Adams picked up the tortoise and figured out the problem.
She said: "At first when I arrived I didn't have my glasses on and I thought it was a baby tortoise. It was sitting there in the shoe box, on a bed of lettuce and tomato.

"Then I put my specs on, and thought: 'Oops – what's this?'

"When I picked it up I saw the CE mark and the words Made in China, and I just cracked up.

"I laughed even more when she told me her daughter had been to the Co-op to buy tomato and lettuce for it. She was very apologetic. Judging by the moss on it, it had been in the garden a long time.
Adams and Knoxwood founder George Scott both said Mrs. Parker did the right thing by calling them. Link -via Arbroath