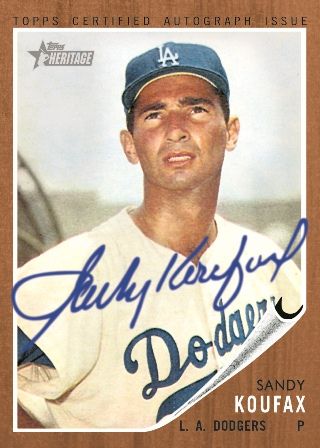 Neatorama presents a guest post from actor, comedian, and voiceover artist Eddie Deezen. Visit Eddie at his website.
Athletes, like most other people, are praised, admired, and rewarded for things they have done. It is a rare thing when an athlete (or anyone) is rewarded for not doing something. But not doing something was to be the defining moment in the legendary baseball career of the immortal Sandy Koufax.  
It was the autumn of 1965 and, as usual, the World Series was to be played. That year's fall classic pitted Koufax's National League champs, the L.A. Dodgers, against the American League champs, the Minnesota Twins.
By 1965, Sandy Koufax was the undisputed best pitcher in baseball. He had won 26 games that season, losing only eight, and led the league in earned run average. On September 9th, he had pitched his record 4th no-hitter, a perfect game, against the Chicago Cubs.
Koufax also set a new season strikeout record, whiffing an amazing 382 batters in 336 innings pitched. It was a mere formality that Sandy would win his second Cy Young Award after the series (he won unanimously). Another formality was that Sandy Koufax, baseball's greatest pitcher, would pitch the opening World Series game in Minnesota.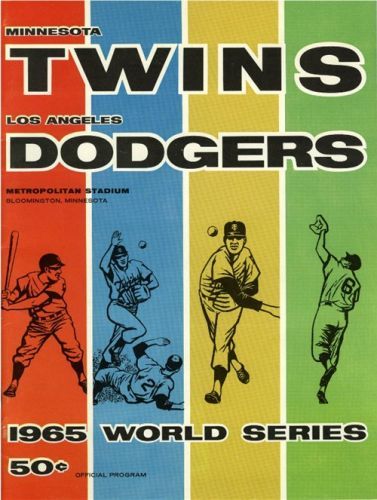 Oh yes, I have neglected to mention one other highly pertinent fact: Sandy Koufax was Jewish. And game one of the World Series was scheduled to be played on Yom Kippur, the holiest Jewish holiday of the year. Yom Kippur is the Jewish Day of Atonement, when followers are asked to fast (no food or water) for 25 hours to repent for one's transgressions of the previous year.
Sandy wasn't a super-religious Jew. He often pitched on other Jewish holidays- Rosh Hashanah, Passover, Shavuot, and Sukkot. In his 1966 autobiography Koufax, Sandy said, "Yom Kippur is the holiest day of the Jewish religion. The club knows that I don't work that day. When Yom Kippur falls during the season, which it usually does, it has always been a simple matter to pitch a day earlier, with two days rest, when my turn happened to be coming up." Dodger manager Walt Alston had been criticized in previous years for not keeping abreast of Koufax and the days Jewish holidays occurred. In 1962, a fan sent him a calendar with the Jewish holidays marked.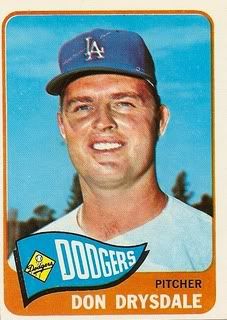 So game one was taken over by Dodger pitcher Don Drysdale. Drysdale got knocked out of the box in less than three innings by the gleeful Twins and lost the opening game by an 8-2 score. When manager Alston came out to the mound to pull Drysdale after his horrendous performance, Drysdale said, "I'll bet you wish I was a Jew, too."
Koufax was good to go in game two, but lost to the Twins by a 5-1 score. So the Dodgers were now down two games to none in the series. For the L.A. team, things indeed looked bleak.
But back in the happy confines of Dodger Stadium, the Dodgers won the next three in a row (Koufax pitching a gem in game five, striking out ten and shutting out the Twins 7-0). The Twins took game six back at Metropolitan Stadium and the stage was set for game seven.
Pitching on a mere two day's rest, Sandy Koufax pitched a masterful 2-0 shutout, striking out ten, and giving the Dodgers the world championship. Twins manager Sam Mele summed it up when he said, "We were beaten by the best pitcher there is anywhere." Koufax was voted the 1965 World Series Most Valuable Player. But more than just being a World Series hero, Sandy Koufax had given Jews the world over something to be proud of.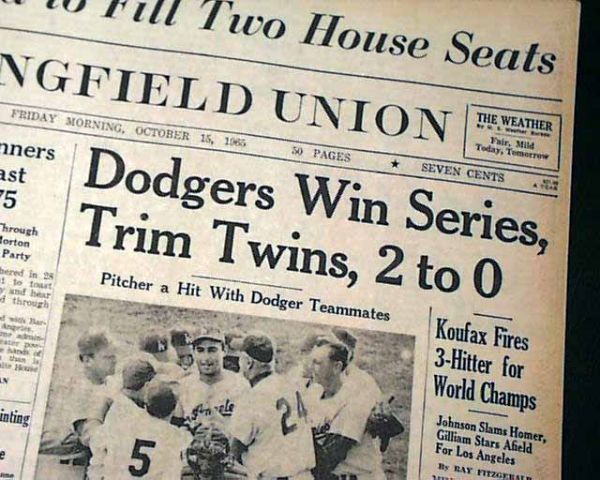 Sadly, Sandy Koufax, considered by some the greatest left-handed pitcher of all time, was to last only one more season after his legendary 1965 World Series. Sandy was chronically plagued by a severe arthritic condition in his pitching arm. Before every game, which he would pitch in severe anguish, he had to resort to pain-numbing drugs, receiving cortisone shots and having powerful salves and balms rubbed on his arm. After each game, he soaked his precious left arm in a tub of ice.
By the end of the 1966 season, after winning 27 games, striking out 317 batters and winning another unanimous Cy Young Award, Sandy decided he'd finally had enough and hung up his glove at the much-too-early age of just 30.
Sandy Koufax, the proud man who refused to pitch a World Series game on Yom Kippur, was voted into the Baseball Hall of Fame in 1972. At 36, he was the youngest player ever elected to the prestigious hall. He remains so to this day.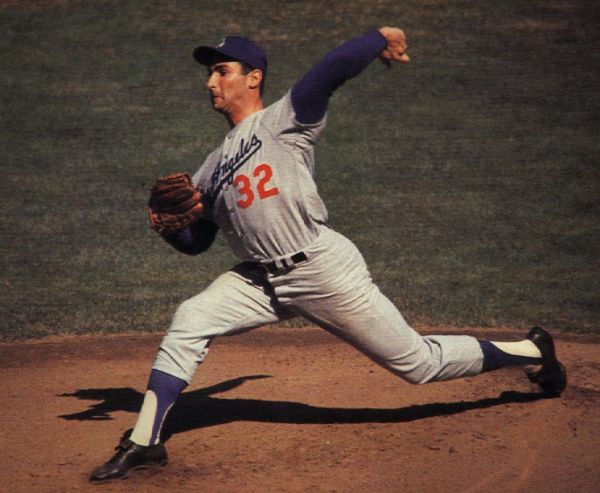 [Ed. note: Yom Kippur starts at dusk on September 25, 2012 (tonight). Wishing a blessed holiday to all those who observe it.]