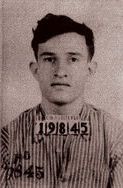 Joe Arridy was convicted of the vicius rape and murder of a 15-year-old girl from a prominent family in Pueblo, Colorado, in 1936. He was sentenced to be executed for the crime, to which he confessed.
Joe Arridy didn't ask for a last meal. It's doubtful that he even understood the concept.

He was 23 years old and had an IQ of 46. He knew about eating and playing and trains, things you could see and smell and experience. But abstractions, like God and justice and evil, eluded him. The doctors called him an imbecile — in those days, a clinical term for someone who has the mental capacity of a child between four and six years old, someone considered more capable than an idiot but not quite as swift as a moron.

The newspapers of the 1930s had other names for him. "Feeble-minded killer." "Weak-witted sex slayer." "Perverted maniac."
In 1992, Robert Perske began looking into the case, and saw a travesty of justice. Arridy was convicted despite the fact that another man, Frank Aguilar, was identified by the victim's sister who witnessed and survived the incident, that forensic evidence linked Aguilar to the crime (but not Arridy), and that Arridy's confession was neither written down nor witnessed by anyone besides the Cheyenne, Wyoming, Sheriff George Carroll, who arrested Arridy. And Arridy had an alibi.
The alibi witness was never called to testify on Arridy's behalf. Perhaps his account was considered unreliable; he was, after all, another "feeble-minded" unfortunate. But how reliable, Perske wondered, was the confession Arridy made in Cheyenne?

The circumstances were certainly suspicious. No one heard the bulk of Arridy's story but Carroll, who made no effort to record it. Arridy started out talking about a club, then it became a hatchet; Carroll knew from the newspapers that it had to be an ax. Arridy didn't start blaming "Frank" for the murder until after Carroll talked to Chief Grady and discovered that Frank Aguilar had already been arrested. And how likely was it that Arridy, who still couldn't get the names of colors right, had provided a detailed description of the Drain home — unless he was prompted in some way?
The prison warden cried when Arridy was executed, although Arridy himself never displayed any understanding of what was happening. Read the entire account at Denver Westword News. Link -via Metafilter