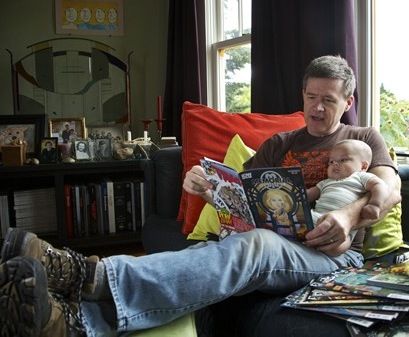 DC comics writer Karl Kesel is selling his personal collection of comic books going back to his childhood. Some of the early editions of those comics are pretty valuable, and sentimental, too. But the 53-year-old Kesel has a good reason for selling: he and his wife Myrna have adopted a baby boy who was born addicted to heroin. The sale proceeds will help defray adoption and medical expenses.
Karl bought many of those comics at The Sweet Shop in Victor, N.Y. The stories frame his childhood and brought him to the drawing board.

"It's so touching to me that he's willing to sacrifice something he loves so much to help us have a family," Myrna says. "It's a big deal, to let all those comics go."

It's a fair trade, Karl thinks. An investment in the miracle that continues to unfold, and the baby who screeches with delight each time his father sings to him.
The comics are being sold through the Blastoff Comics site. More comics will be added as they are sold. Link -via The Daily What Geek
(Image credit: Thomas Boyd/The Oregonian)