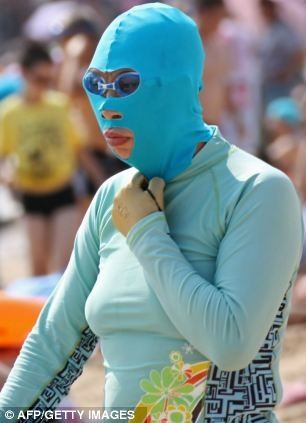 This woman isn't a superhero with a low budget. She's a swimmer in China, the epicenter of this latest fashion craze. The face-kini is basically a ski mask made of light fabric that protects a person from the sun:
Often paired with a long-sleeved shirt, the face-kini reportedly costs from $2.40 to $4; many residents simply make their own, out of old clothes. But observers could be forgiven for thinking they've stumbled onto a vacation community for superheroes in Qingdao, a city across the East China Sea from South Korea. […]

In many cultures, a tan doesn't imply health and leisure, as it often does in Western advertising. Instead, it's seen as a connection to outdoor work, and the peasantry. Preserving one's pale skin, the thinking goes, implies that you lead a pampered, successful life.
Link -via Dave Barry | Photo: AFP/Getty