Neatorama presents a guest post from actor, comedian, and voiceover artist Eddie Deezen. Visit Eddie at his website.
"Green figs, plain yogurt, and coffee -very black." James Bond orders breakfast in To Russia With Love (1963).
1. The First Academy Awards Banquet (May 1929)

Terrapin Soup
Jumbo Squab Perigeaux
Lobster Eugenia
L.A. Salad
Fruit Supreme
2. Elvis Presley Meets The Beatles (August 27, 1965).
In rock music's greatest summit meeting, the Fab Four met The King at Elvis's home, Graceland. Brian Epstein, the Beatles' manager was present, as well as members of both entourages. Elvis' then-girlfriend, Priscilla, also made a brief appearance. Elvis and his manager, Colonel Tom Parker, served the Beatles:
Broiled chicken liver wrapped in bacon
Sweet and sour meatballs
Deviled eggs
Cracked crab
Cold Cuts
Fruit and cheese  
3. The Apollo 11 Moon Mission (July 1969)
Among the various dehydrated food and beverages Neil Armstrong, Edwin Aldrin, Jr. and Michael Collins dined on during the Apollo mission were:
Spaghetti with Meat Sauce
Ham Salad Sandwiches
Scalloped Potatoes
Peas
Bacon squares
Sausage Patties
Chicken Steak
Fruitcake Cubes
Bite-size Brownies
Pineapple Cake
Fruit Punch
Coffee (for the first time, astronauts were allowed to consume coffee)
Orange Drink (not Tang)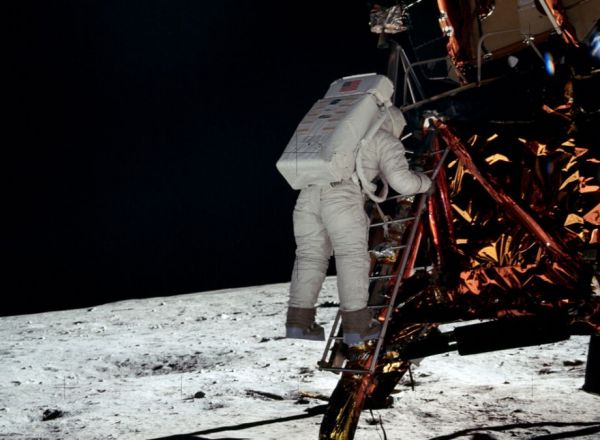 4. John and Abigail Adams' Traditional Fourth of July Meal  
Green Turtle Soup
New England Salmon with Egg Sauce
New Potatoes
Early Peas
Apple Pan Dowdy
5. Dean Martin Teams Up With Jerry Lewis (July 25, 1946)
The singer and the comic officially teamed up at the Club 500 in Atlantic City. Their first show together bombed, so before their second show, the two dined together as Jerry wrote a few jokes and bits. They had:
Pastrami Sandwiches
Soda Pop
Jerry wrote the routines on a greasy pastrami sandwich wrapper.
6. President George W. Bush and First Lady Barbara Bush at the White House (2001)
Mrs. Bush fondly recalled the first private lunch she and the president had together after he took office. They shared:
Duck Soup
Smoked Trout
Salad
Peaches and Passionfruit
7. Ernest Hemingway's Favorite Restaurant in Spain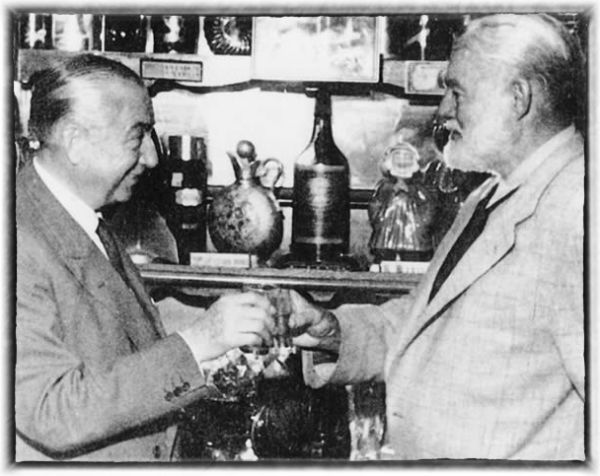 A meal served to Hemingway in his favorite Tapas bar:
Iberian Ham
Boiled Shrimp
Potato Salad
Fat Squid Fried with Vinegar
Beer
8. Roger Maris Breaks Babe Ruth's Home Run Record (October 1, 1961)
Roger Maris loved having breakfast at the Stage Deli in New York the day he hit his record-breaking 61st home run was no exception. That morning, Roger had his usual waitress and ate his usual meal:
Bologna and Eggs
9. Jane Fonda and Ted Turner's Wedding Feast (1991)
Pheasant
Sweet Potatoes
Wild Rice
10. Marilyn Monroe's Nude Photo Shoot (1949)
Young actress Marilyn Monroe was broke and strapped for cash early in her career. She hired by photographer Tom Kelly to pose nude on a velvet cloth. Marilyn was never embarrassed by her body and gladly agreed. Kelly paid her a $50 fee. The most common reason given by Marilyn was that she needed the money to make a car payment. The photo was to be featured on countless men's calendars and became a world-famous image. After the photo session, Tom and his wife treated the 23-year-old actress to dinner. Her meal:
A Bowl of Chili
11. Five Living Presidents Get Together (November 4, 1991)
Five presidents (Reagan, Bush, Ford, Carter, and Nixon) gathered at the dedication of the Ronald Reagan Presidential Library. That historic day, the five U.S. presidents dined on:  
English Sole
Chinese Peapods
New Potatoes with Basil
Toasted Coconut Ice Cream Balls
12. Christmas Meal: Generals Robert E. Lee and Stonewall Jackson (December 25, 1864)
It was the last days of the Civil War. Two months later, Stonewall Jackson would be dead and the South would drift into a long decline. Their Christmas meal consisted of:
Pails of Oysters
Turkey
Ham
Biscuits
Pickles
Cake
Wine
13. Jimmy Carter's First Breakfast in the White House (January 1977)
First Lady Rosalynn Carter wrote of the surprise she had when she realized they could order anything they wanted! With glee, the Carters dined  on:
Grapefruit
Strawberries
Eggs: Scrambled, Fried, and Poached
Sausage, Bacon, and Ham
Grits
14. The First Two Joint African-American Oscar Winners (March 24, 2002)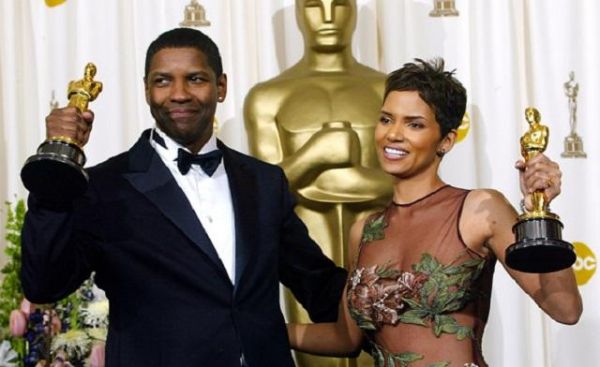 At the 2002 Oscars, for the first and only time, a Best Actor and a Best Actress award both went to African-Americans. At the Academy Awards Governor's Ball, Denzel Washington and Halle Berry were honored. (Washington was not the first black man to win a Best Actor award, but Halle Berry was the first black woman to win a Best Actress award.) That historic evening, the two celebrities dined on:
Caviar and Creme Fraiche
Lobster
Sesame Crusted Salmon
Apricot and Milk Chocolate Dessert