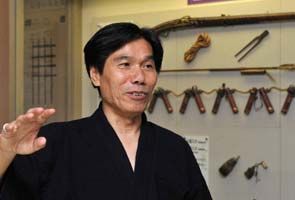 63-year old Jinichi Kawakami began his training when he was just 6 years old:
Kawakami said training ranged from physical and mental skills to studies of chemicals, weather and psychology.

"I call ninjutsu comprehensive survival techniques," though it originated in war skills such as espionage and guerrilla attacks, he said.

"For concentration, I looked at the wick of a candle until I got the feeling that I was actually inside it. I also practised hearing the sound of a needle dropping on the floor," he said.

He climbed walls, jumped from heights and learned how to mix chemicals to cause explosions and smoke.
According to some people, the tradition will die with Kawakami because he is the world's last ninja:
As the 21st head of the Ban clan, a line of ninjas that can trace its history back some 500 years, Kawakami is considered by some to be the last living guardian of Japan's secret spies.

"I think I'm called (the last ninja) as there is probably no other person who learned all the skills that were directly" handed down from ninja masters over the last five centuries, he said.