In the land of the children there is a place where veggies talk and sing to us. I have to admit, they are funny and very entertaining, with adult humor sprinkled throughout without ruining it for the kiddos.
This one is about a manatee whose name is Barbara. Isn't she a looker?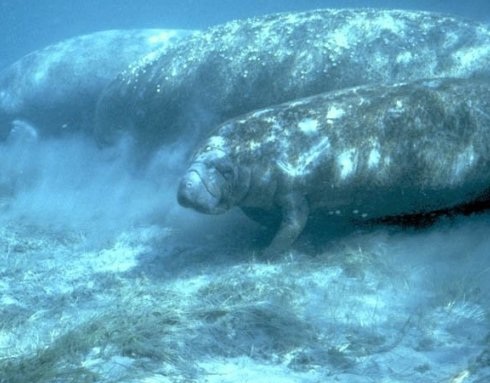 Quote:
---
This group of three West Indian manatees (Trichechus manatus) was photographed while feeding on seagrass.
---
Larry the Cucumber is in love with Barbara Manatee, a character in a TV show. He dances with a Barbara Manatee stuffie and sings along with the TV show . . .
Barbara Manatee (Manatee, Manatee).
you are the one for me (one for me, one for me)
sent from up above (up above, up above)
you are the one i love (i love, i love, i love)
Live manatee image credit here.