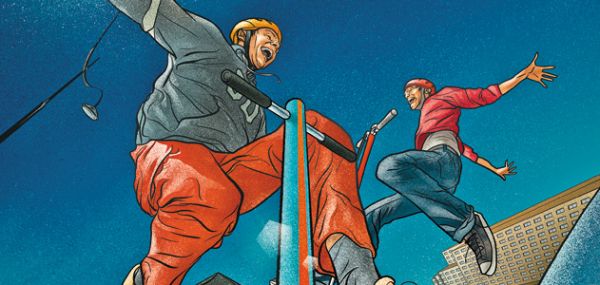 In the past few years, you've seen YouTube videos that scare you out of ever buying a pogo stick for the children in your family. They used to jump just a few inches off the ground!
But not long ago, three inventors—toiling at home, unaware of one another's existence—set out to reimagine the pogo. What was so sacred about that ungainly steel coil? they wondered. Why couldn't you make a pogo stick brawny enough for a 250-pound adult? And why not vault riders a few feet, instead of measly inches? If athletes were pulling "big air" on skateboards, snowboards and BMX bikes, why couldn't the pogo stick be just as, well, gnarly?

***

That world turned out to be a perilous place. In their quest for Pogo 2.0, the inventors endured bouts of unconsciousness, defective Chinese imports, trips to the bank for second mortgages and an exploding prototype that sent one test pilot to the hospital for reconstructive surgery.
Read the story of how the humble children's toy became an extreme sport at Smithsonian magazine. Some parts (the exploding prototype) are a bit gory. Link -via Metafilter
(Image credit: Martin Ansin)