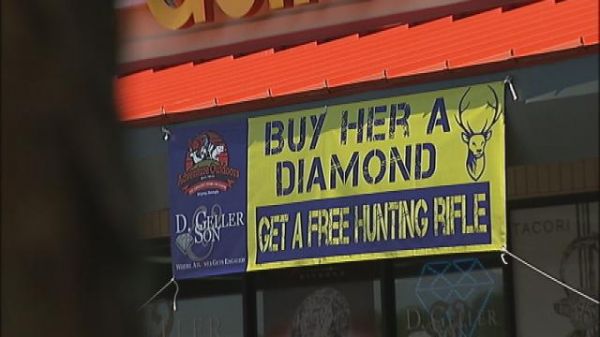 Like grandpa always said, nothing goes together as well as engagement rings and rifles. A jewelry store in Atlanta, Georgia, is offering a sweet package deal if you want both.
D. Geller and Son is giving away a free gun to customers who buy a diamond.

Owner Mike Geller said he got the idea, after seeing a similar offer at a Missouri car dealership.

Geller's promotion offers a free hunting rifle, if you buy a diamond worth $2,499 or more.

Already, Geller says the offer is generating a lot of buzz.

"It's unbelieveable!  There's websites that got a million hits about it," Geller said.

 "It's interesting.  It's appealing to the men, I think" said one Cobb County woman who didn't think it was a bad idea.
The jewelry store doesn't hand out guns. When you purchase a diamond, you get a voucher and then you must comply with applicable laws when you go to the gun store. Link -via Arbroath
(Image credit: WSB-TV)